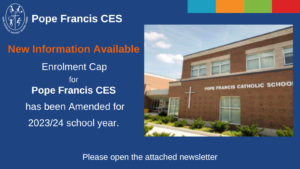 Dear Pope Francis Families and Registrants, 
The purpose of this letter is to provide the Pope Francis CES community with information regarding recent amendments to the enrolment cap at Pope Francis CES, and to provide families information regarding a new SK-Grade 8 entry process for the 2023/24 school year.
At the Monthly Board meeting on February 28, 2023, Trustees approved the following motions regarding the enrolment cap at Pope Francis CES:
THAT For the 2023/24 school year, Junior Kindergarten registrations at Pope Francis will be increased from 90 to 101 students.
THAT the SK to 8 enrolment cap at Pope Francis CES be amended to accept new students from SK-8 as outlined in Steps 1 to 6 identified in this report.
THAT Administration report back to the Board in February 2024 regarding any proposed changes to the enrolment cap prior to the 2024/25 school year
A link to the Staff Report, including the process and key dates can be found  here
Should you wish to have your child's name included in the upcoming SK-Grade 8 Selection process, kindly complete the survey below by Monday, March 27, 2023.  This selection process is open to all families who reside within the Pope Francis CES attendance area.