In our library . . . 
During the week of February 13 to 24, our Pope Francis family will celebrate Black Heritage in the library, with a spotlight on four books: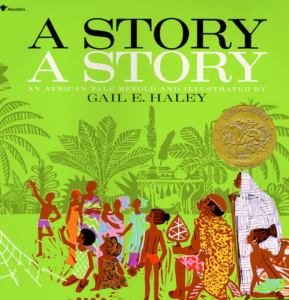 A Story, A Story, by Gail E. Haley, tells the story of Ananse the Spider. Originating from the Ashante People of Ghana, the book is a colorfully illustrated retelling of a spider story and an unlikely hero. At one time, all the stories of the world belonged only to the Sky God. However, Ananse wants some of the stories to share with people and finds a clever way to get them.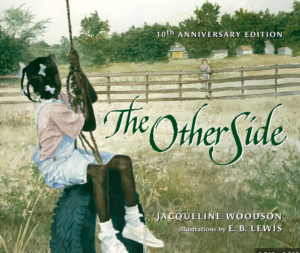 The Other Side, by Jacqueline Woodson is a story about how some boundaries need to be torn down. When asked why she wrote this book, Woodson says: "I wanted to write about how powerful kids can be. Two young girls fight against segregation by becoming friends. They don't believe in the ideas adults have about things so they do what they can to change the world. We all have this power."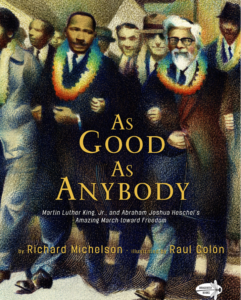 As Good As Anybody, by Richard Michelson, illustrates the life missions of Martin Luther King Jr. and Abraham Joshua Heschel. It is the story of how two men formed a remarkable friendship and turned their personal experiences of discrimination into a message of love and equality for all.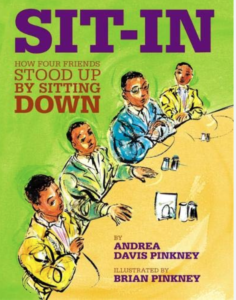 Sit In, by Andrea Davis Pinkney, is a celebration of the 50th anniversary of the momentous Woolworth's lunch counter sit-in that took place on February 1, 1960. Four college students staged a peaceful protest that became a defining moment in the struggle for racial equality and the growing civil rights movement.
In our classrooms . . . 
On Wednesday, February 8, the Grade 7s at PFS had the wonderful opportunity to lead the school in celebrating the history, successes, sacrifices and triumphs that surround Black Heritage Month. We listened to the young Amanda Gorman, poet and activist, speak about the call for unity, collaboration and togetherness. Kid President gave his reflection about the legacy that Martin Luther King Jr left behind and the importance around educating others. We are fortunate to be a part of a country that honours their legacies and we were so proud to host a liturgy that encompassed the way we can all contribute to changing the world for the better. 
In our school . . . 
Thursday, March 30 will be an extra special day at our school. Aubrey Noronha will speak about  how students can work to eradicate bullying and racism. Aubrey is the founder of  Hello Hope Canada, and it has one objective: to introduce as many people to the power of hope as possible. ​He says: "It's not just OK to discuss topics related to skin colour, but it is now more important than ever that we come together to discuss them. It will not always be pretty, but it is worth it!"